Spectrum Insider
Best Practices When Managing Promotions
It's the time of year when promotions reign supreme. It's important to note that promotions are valuable no matter the time of year, but the holiday season means consumers are shopping and looking for a deal. How can you use the end of the year to up your promotions game? Let's discuss how you can make the most of promotional offers to generate new leads.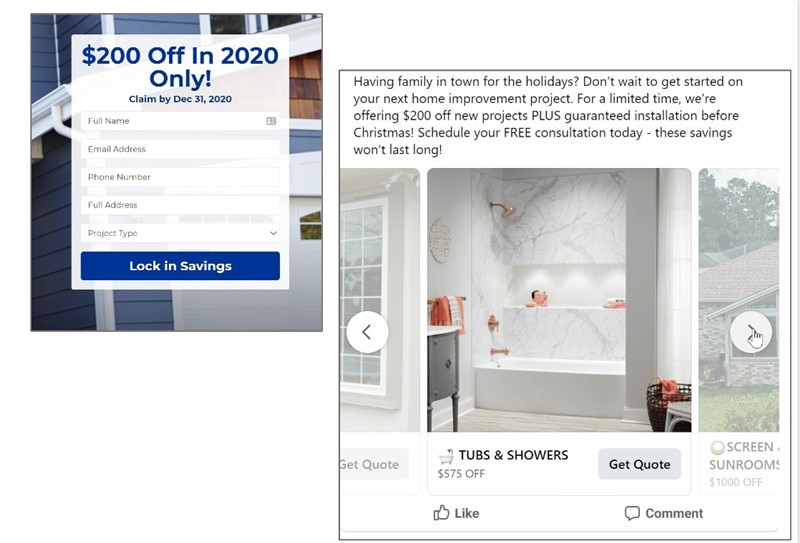 Best Practices for Promotions
The holidays are a great time to roll out a promotions strategy and look towards the new year. What goes into a strong promotions strategy? In addition to having the right offers and promotional language, there are three pillars we recommend keeping in mind when crafting your promotions:
Frequency: There's a sweet spot for promotions—too many and they become meaningless, while too few means you're missing out on important lead generation opportunities. Map out your promotions so that they strike a balance. Align them with the season, a holiday, or with a sales goal. And never forget to have an end date! Keeping these in mind will ensure your promotions stay fresh and effective in capturing the attention of your audience.
Visibility: Having an offer to promote is most important, but second to that is where you'll place your promotion! Whether it's advertised through paid media campaigns, on your website home page, on quote forms, or more, make sure your promotions are highlighted in well-trafficked areas and are accompanied by a clear call to action!
Coordination: Promotions are valuable sales tools—so make sure your team knows about them! Communicate your promotions with all your departments so it's not just a marketing team secret! Ensure your call center agents, accounting department, and operations team know about your offers. Then, make sure your sales team knows about the promotions they can use during sales appointments to close the deal!
Spectrum Helps You Manage Promotions
Your account management team will work with you to design a promotional calendar that's customized to your business. Then, you can take those promotions to the next level with your platform! Spectrum has an entire Offers Engine designed to help you manage your promotions strategy:
Offers Engine: With Spectrum's Offers Engine, create customized offers directly in your platform! Create your offer with a unique title and description, upload images or videos, and dictate where your offers will appear on your website. These offers will live in your platform so your team can update or add to them at any time.
Exit Intent: Exit Intent is our tool that identifies when a page visitor is intending to leave your website and serves them with a compelling offer. You can choose the offer you'd like to present, making it easy to align with seasonality or your current goals. Exit Intent decreases your website bounce rate and is an effective way to capture last-chance leads!
Info Alert: Use Info Alert to get important information to your website visitors. Info Alert is a banner message that appears at the top of your website. It's great for conveying a sense of urgency to consumers and is a smart tool to use when highlighting limited time offers.
Plus, the end of the year is a great time to start advertising the energy efficient upgrades available to homeowners through the Inflation Reduction Act. Read here for a quick summary of the tax credits and other rebates starting December 31st, and speak to your account management team about how you can highlight these offers.
Plan Your Promotions Strategy with Spectrum
If you're ready to hit the ground running with offers, you don't have to wait until the new year! Reach out to your account management team to discuss how you can leverage promotions to generate new leads.
Tags

promotions

offers

promotion types

exit intent

holiday offers

promotion strategy
---
---
---