Digital Marketing
Promote Your Business with New Google Features
Showing up every time your brand is searched for, your Google My Business listing is a great and FREE tool to grow your online presence. Until this week, your company had relatively little control over what was featured on your listing.
Not anymore! Starting this week, you have full control over your Google My Business listing, and can post content to it directly. This is huge, and can make a great impact on your online visibility and revenue.
Here's what the new feature looks like for our partners: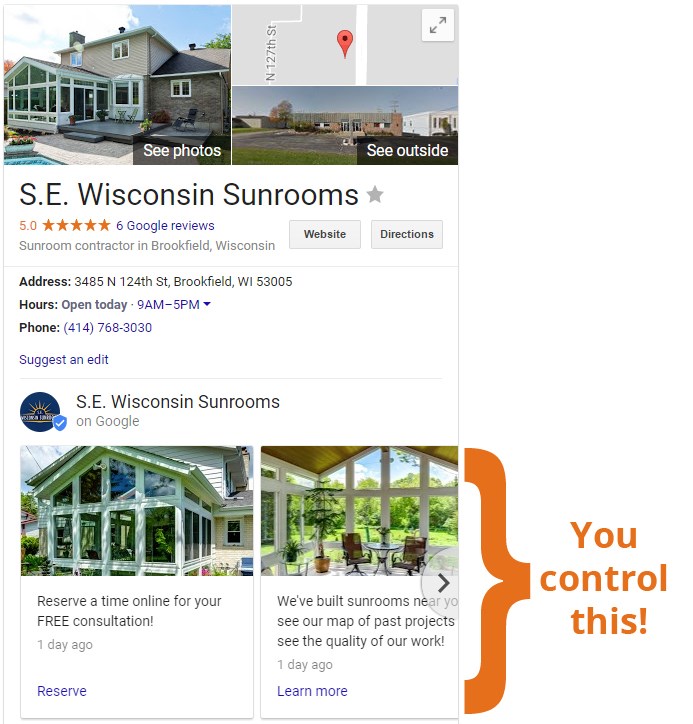 The images and ability to customize your offers give you a great opportunity to promote your business. By taking advantage quickly, you can provide your customers with an experience that your competitors cannot match!
At Spectrum, we keep up-to-the-minute with all of the latest Google features. If your current digital marketing team isn't keeping you at the cutting edge, we should talk!
Looking for more great Google features to take advantage of? Download our top New Google Features Guide to read all of the latest and greatest advancements!
What to post
Google is giving you an opportunity to highlight your best and most persuasive content. Our partners are already having great success by posting a variety of specials and testimonials.
That includes:
Your monthly sale. You can schedule offers with start/end dates, so our team schedules offers in advance, so that your online presence is always consistent.
Appointment scheduler. Your customers love convenience, so include a link to set an appointment! All of our websites allow users to request an appointment online, and we see that customers love it.
Testimonials. Think of your most persuasive sales content. Video testimonials are a great example. Include a link directly in your Google listing to stand out!
How to do it
You have the option to post any content you like, with a preview image, a text blurb, and one of several predefined buttons. Here is a look at the new interface!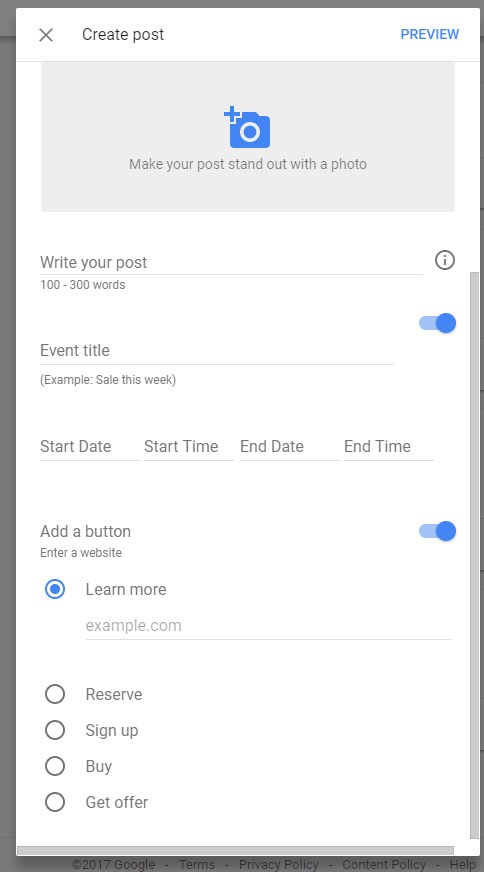 The Learn More button is your general catch-all, but Sign Up or Reserve are perfect for scheduling appointments, and Get Offer is great for monthly sales or promotions.
As a partner to promote your business, Google is great at developing new and innovative ways for customers to find and buy from you. The only trick is that Google is constantly introducing new features, and it can be hard to keep up! That's why having an engaged digital marketing partner is so important.
Looking for more?
If you would like to read about the most important new Google features released this year, download our New Google Features Guide. That has the top 3 new features introduced this year for home improvement companies, plus strategies to take advantage of each!
Not getting as many quality sales leads as you want online? We should have a conversation! Spectrum is the Google Premier Partner for the home improvement industry – we would be happy to review your current efforts and offer expert suggestions, all free of charge. Simply click below to schedule your FREE review!
Tags

google+

google local

google my business

Online appointment setting

increasing online visibility

lead generation
---
---
---