Digital Marketing
Spectrum & HomeAdvisor Partner to Build Your Business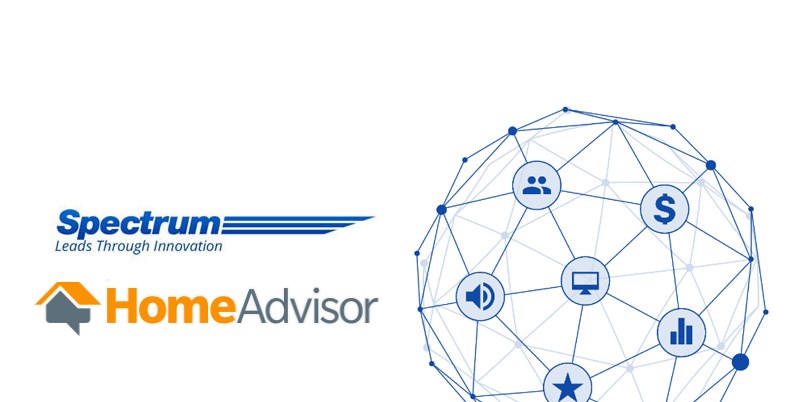 Here at Spectrum, we are always looking for new ways to generate leads and bottom-line revenue for our partners. Today, we are announcing a partnership with HomeAdvisor, the largest nationwide source of home service leads available for retail. Here are some of the exciting developments we have to help you get the most out of your pay-per-lead investment.
Spectrum Software
When companies try HomeAdvisor and fail, more often than not it is due to slow response time to HomeAdvisor leads. Remember, these leads are competitive, and you need to beat other companies to the sale! We built software to boost your ROI and easily integrate HomeAdvisor leads into your sales pipeline.
InstaCall: each HomeAdvisor lead is emailed or texted to you, but you also receive a phone call using Spectrum technology. That automatic phone call tells you about the lead, and all you have to do is press one to dial the customer. That way, you're the first company in touch, every time.


Lead Tracking: your HomeAdvisor leads are now seamlessly integrated into your CRM, capturing name, contact information, and project details for later use. All of your lead information is instantly and automatically forwarded where it needs to be.
HomeAdvisor Leads
Seeing Spectrum partners reliably on track to grow and beat their revenue goals, HomeAdvisor offers a variety of special incentives for Spectrum clients to participate in the partnership. Given our track record of success, these special advantages pay off in long-term relationships and growth for all involved.
Lead Rebates: For your first month partnered with Spectrum and HomeAdvisor, you get a full 50% off on your leads. After that, you receive a regular rebate on leads you purchase through the program. Combined with software to make each lead more effective, this significant discount just sweetens the deal.


VIP Support: You don't have to listen to Adam Corolla tell you how to run your business while you're on hold – through our partnership, you have access to specialist support for high value partners. We help you navigate the intricacies of setting up and maintaining your profile. That way, you can skip the line and spend your time building your business.
Looking to participate at the highest level in the industry? Here at Spectrum, we partner with HomeAdvisor, Google, and the best manufacturers to provide our clients with the very best in lead generation and supporting software. That's why we represent more Big 50 Award Winning remodelers than any other digital marketing agency.
If you're ready to get started, simply fill out this form and we will build you a free lead analysis, showing you the opportunity in your market and available strategies to capture it.
Tags

homeadvisor

Home Improvement

Moving

lead capture

lead generation

Lead management
---
---
---