Digital Marketing
Drive More Results with Reviews
As the busy season begins to slow, now is an excellent time to solidify your review generation strategy. Whether you ask for reviews after the job is done or take stock of your projects and their review potential at the end of the season, reviews add value to your business. How can reviews make a difference to your bottom line? Let's take a look:
Benefits of a Strong Reviews Strategy
Customer reviews create impact. Think about how many times you consult reviews in your daily life. For significant investments like home services projects, hearing others' stories can be the tipping point that turns a "maybe" into a sale. When you build a consistent review generation strategy, you'll enjoy:
Higher Click-through Rates: Companies with reviews visible on a search engine results page enjoy higher click-through rates than those without reviews. The more traffic you drive to your site, the more opportunities you have to convert casual shoppers into warm leads for your business.
Better Website Conversions: As mentioned above, reviews can be a driving factor to increased conversions. How you use your reviews on your website matters too. Companies who place their reviews in multiple spaces on their website— on quote forms, on the homepage, in the navigation bar—enjoy higher website conversions. There's nothing more effective than drawing customers in because of strong reviews, and then highlighting those reviews in greater detail on your website.
Increased Closing Rates: Give your sales team another tool in their kit to make every appointment a win. When you have a strong selection of reviews, your sales team can build trust with consumers by showing off your quality work. Reviews can also help customers get inspired! Seeing the work you've done for other homeowners can help your customers see how their vision can be brought to life.
Strategies to Generate Reviews
You know reviews are important, but how can you develop a process that works for your team? Let's talk through different review generation strategies as well as technology you can use to implement a consistent process for your business:
Project Completion: There's no better time to request a review than when the excitement of a completed project is fresh in a customer's mind. Generating reviews once a project is complete is a surefire way to get honest and positive feedback from happy customers. It also creates a more manageable task load for your team and allows for you to generate reviews more consistently.
End of Season Eblasts: Once the busy season wraps up, take stock of your projects and identify customers who would be a good candidate for reviews. If you already request reviews on a rolling basis, end of season eblasts are a great way to target any missed opportunities or generate reviews on properties like your Google My Business, Guild Quality, or other third-party platforms!
Text-for-Reviews: Consumers read texts. In fact, 96% of all text messages are read within the first three minutes of sending. That's a valuable opportunity waiting for your team! No matter when you prefer to request reviews, Spectrum makes it easy to generate reviews via text. With the click of a button, customers will receive a text request and leave a review right from their phone. Learn how to send your first text request!
Reputation Management Engine: Spectrum has an entire reputation management engine built directly into your software! Whether you'd like to send review requests via text or email, request reviews to different platforms, pair requests with incentives, send out customer satisfaction surveys and much more, you can manage your reputation in one centralized place with your Spectrum software.
Customer Spotlight
See how this Spectrum contractor used review requests to generate more opportunities for their team!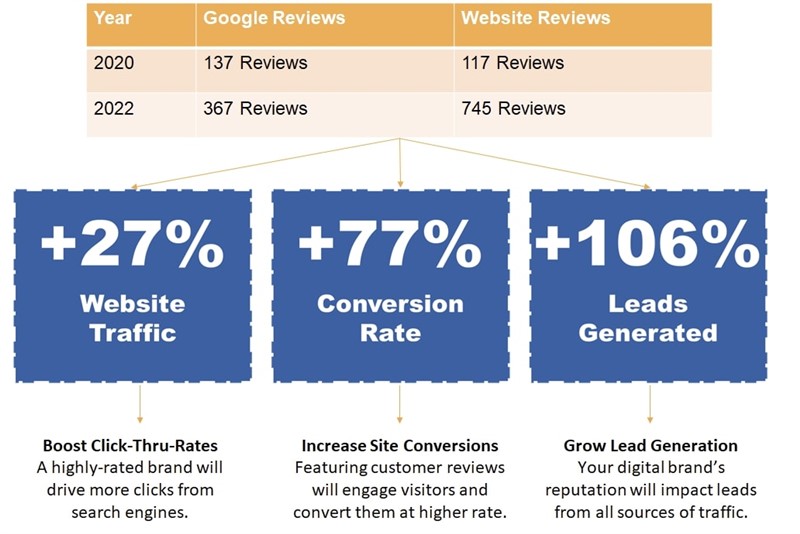 Grow Your Reputation with Spectrum
To learn more about how you can incorporate review generation into your growth strategy, connect with your Spectrum account management team. They will work with you to develop the right plan for your business.
Tags

Online Reputation Management

review incentives

requesting reviews

customer testimonials

lead conversion
---
---
---