Digital Marketing
3 Major Digital Updates Affecting Home Service Businesses
Big things happening on the digital and home services front this week! Here are three major updates from Google, Facebook, and HomeAdvisor that will affect your business.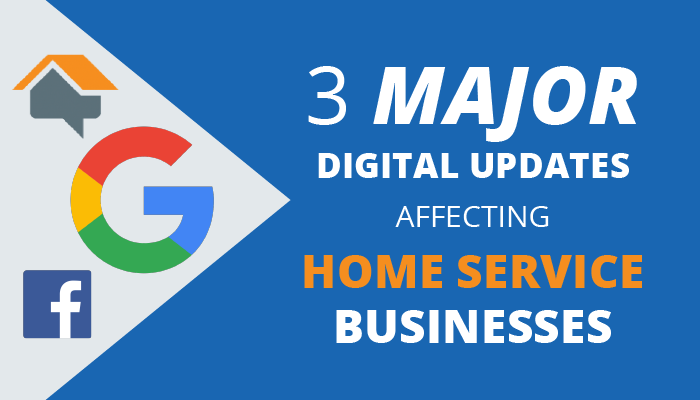 #1- BREAKING NEWS from Google: The Official Rollout of Mobile-First Indexing
After a year and a half of testing, Google officially announced a roll-out of their mobile first indexing! We recently touched on how mobile-first indexing can affect home service businesses, but let's quickly recap on the basics of what it is:
Before, Google primarily crawled the desktop version of sites. Now they are shifting their focus to mobile, displaying search results based on how the engine sees your mobile site.
WHAT DOES THIS MEAN FOR YOU? If you don't have a mobile-optimized website and aren't following mobile-first best practices, then your website will start to lose ranking!
You don't need to panic (yet) about this update—Google has only rolled this out to sites that already follow best practices for mobile-first indexing. But it is time to think about how your site will perform when the change rolls out to everyone.
Spectrum is an expert on mobile-first experiences. Request a demo, and we'll help guide you through how we can help with all things digital—from mobile sites to digital lead generation (and beyond!).
#2- Facebook's Local News Prioritization Rolling Out Globally
In January, Facebook announced an algorithm update that would deemphasize commercial content, making it more difficult for businesses to appear on users' newsfeeds. Shortly after, they announced that although they would be deemphasizing news overall, they would prioritize local news.
As of this week, Facebook is officially rolling out this local news prioritization. What does this mean for home service businesses? Partnerships with local news publishers will be more important than ever for exposure! Here's how you can use this update to your advantage:
Get involved in local events that these news organizations will be attending (Or better yet, throw your own philanthropic event)
Share their content to your Facebook page (both business and personal). Make sure to tag them!
If your business is heavily featured in any news content, ask to be tagged in their social posts!
#3- HomeAdvisor Sued for Misleading Ads
HomeAdvisor is in big trouble with the state of California. Why? California claims that HomeAdvisor's ads break California state laws around misleading advertising. The HomeAdvisor ads in question speak about "background-checked pros" and show images that support this statement.
Here's the issue—HomeAdvisor conducts background checks on owners of the businesses listed on their platform, but they don't conduct background checks on any subcontractors that these businesses might use. California has filed a lawsuit alleging that HomeAdvisor's radio and television ads mislead consumers to think that all service personnel have undergone background checks.
This not only affects HomeAdvisor, but also Angie's List, which is now owned by ANGI Homeservices, HomeAdvisor's parent company. A trial date is set for April 12, so it's too early to say what this means for the company, but more to come soon!
Tags

breaking news

google

mobile-first indexing

Facebook

HomeAdvisor
---
---
---