Software Innovation
All of Your Lead Generation, Under One Roof – Check Out These Features!
Here at Spectrum, we are constantly thinking up and designing innovative ways to grow your business. In the remodeling industry, we know that contests are a great way to introduce your brand to prospective new customers. To help you win more business through remodeling contests, we've put together an unmatched suite of software and services included in your website.
Contest Engine
To generate new business from contests, you need a fresh and compelling offer to present to your customers. We build all the tools you need to design, schedule, and run a variety of remodeling contests, right from your website dashboard!
All of your contacts, all in one place. We integrate with all major CRMs, so that your contest leads flow in seamlessly. This is a true turn-key solution, all your team has to do is dial the customers and close the business.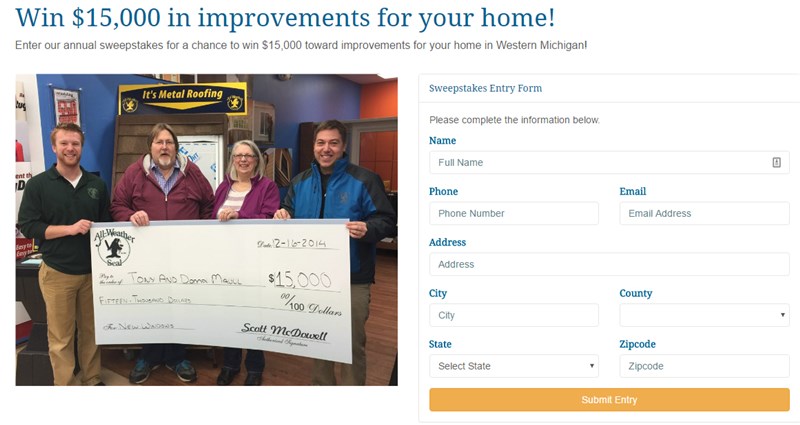 A quick preview of your contest entry page.
Promoting a contest at your home shows? Let's put it up on your website! You will constantly grow your lead list, giving your phone team everything they need to grow your business.
Exit Intent
When a customer moves to leave your website, you have a great opportunity to win their business – if only you could identify them on the way out. We have integrated software into your website to do just that!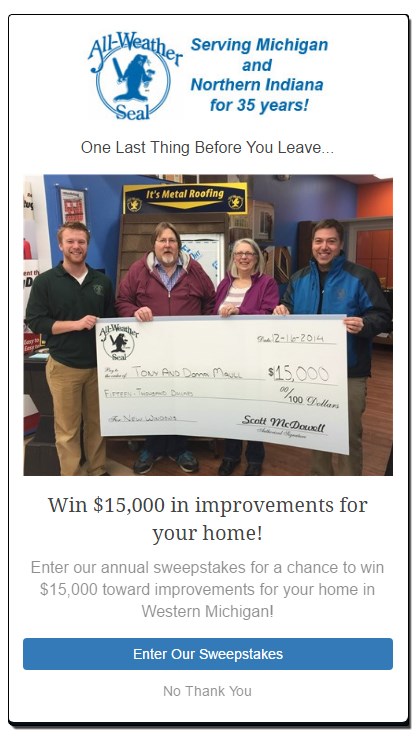 What All Weather Seal's customers see before leaving the site - why lose the opportunity when you can quickly grab their contact information?
You choose which offer to show your customers to win their business – whether that is a remodeling contest, a sales promotion, downloading a brochure, or even starting a full-service chat session with one of our live operators.
Whichever option you choose, you are certain to convert more new business from lost opportunities.
Best of all? At Spectrum, we believe in your long-term success, so you don't need to tack on a separate service to get a great website. This software is available to you today, included in the cost of your current marketing.
Bonus: Intelligent Lead Gen
As an additional option, we can drive highly targeted traffic to your contest entry pages, picking home owners with exactly the right characteristics to become new business. After all, anyone can drive just any traffic to enter your contest, because you are giving away free services! Only Spectrum knows the data and knows your customers well enough to drive the best opportunities to your brand.
We use a unique blend of social media, Google advertisements, and organic marketing to promote your contest and your brand to exactly the right households. Want to learn more? Just give your account manager a call, and we will give you an overview of what we can offer.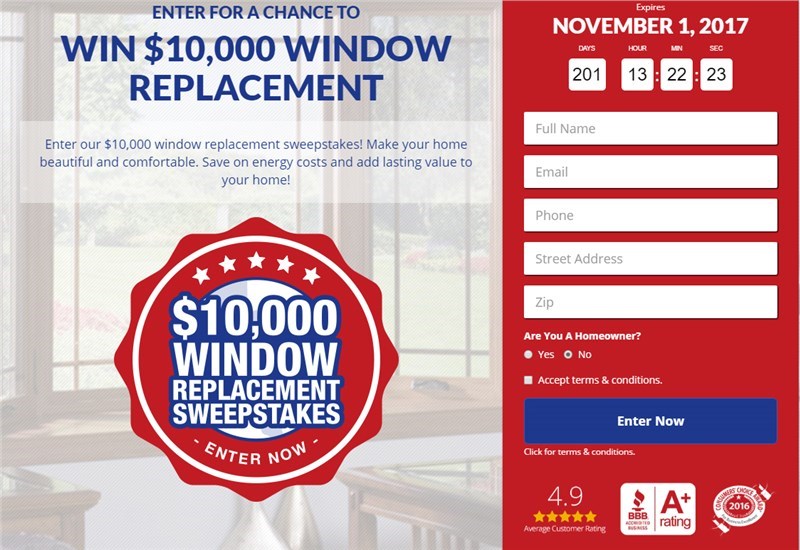 There you have it! Things never stand still in digital marketing, just like no two days are alike in the remodeling industry. Here at Spectrum, we are constantly building new tools to keep your company light-years ahead of your competition. If you are interested in these features and want to learn more, simply reach out to your account manager and we'll get you started!
Tags

intelligent lead gen

contest creation

lead generation

mobile lead generation
---
---
---