Software Innovation
New Feature! Introducing Call Transcription
The Spectrum team is pleased to introduce Call Transcription, a new offering within the Spectrum platform. Phone calls remain a critical component for any business, and ensuring call quality is of the utmost importance to a successful home services company.
Save Time with Spectrum's Call Transcription
Every phone call that enters your system will have an automatic transcription appended to the lead activity, making it easy to reference calls at any point throughout a project. Whether you use Call Transcription for team training or business analytics, this is another tool in your Spectrum arsenal designed to optimize your marketing.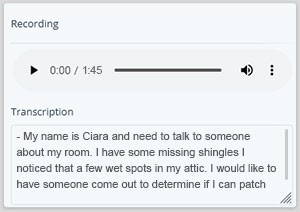 With Spectrum's Call Transcriptions, you can:
Save Time & Money: Call Transcription simplifies call auditing for quality assurance. Instead of listening to full calls and taking notes, every call recording is accompanied by a complete transcription, saving time and money.
Evaluate Lead Quality: Spam calls are an unfortunate reality in today's consumer landscape. Call Transcription allows your team to quickly see if a phone call is in fact a lead for your business, saving your team time during audits.
Track Customer Info: Call Transcription works in concert with your Spectrum software by providing you with more information about who is contacting your business. Your contact manager stores customer information and activity, like name, phone number, marketing source, call recording, and now, transcriptions.
Understand Customer Behavior: Use Call Transcriptions to understand your customers on a deeper level. Know what questions customers are asking, review topic matters, and see how your team handles calls to inform future training.
Call Transcription improves both your internal and external operations. Equip your team with the tech they need to better engage with leads, while providing homeowners with a more seamless customer experience.
Streamline Your Workflow with Spectrum
If you have any questions about how you can implement Call Transcription into your workflow, speak to your Account Management team today.
Tags

Call Center Leads

call transcription

phone training

customer engagement

customer satisfaction

understanding customers

phone calls
---
---
---