Selling into the Home: Get Your Brand on Amazon Echo, Google Home, and More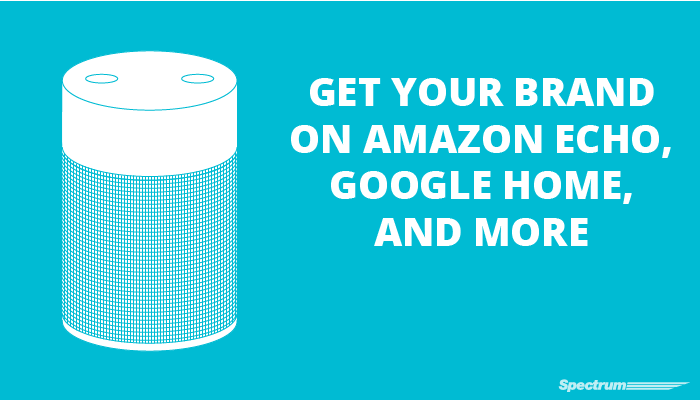 Digital personal assistants, like Amazon Echo, Google Home, or practically any smartphone, are a standard in the homes your dealers are selling into. The question is, how can your brand take advantage and broadcast your message using this new technology today?
Here is an instructive example:
You may have heard about the recent Burger King TV ad that triggered Google's voice search service – the ad ran like this:
"You're watching a 15-second Burger King ad, which is unfortunately not enough time to explain all the fresh ingredients in the Whopper sandwich. But I got an idea," he said, triggering Google's voice search on Google Homes and Android smartphones in listening distance. "OK Google, what is the Whopper burger?"
The ad causes your Google Home to list off the ingredients for a Whopper, direct from Burger King's Wikipedia page. Some listeners laughed, some felt intruded upon, but the point is that voice search devices are now prevalent enough that it makes sense to advertise to them directly.
So, how can your home remodeling brand take advantage of this emerging technology? Here are a few key avenues to get your brand into the home today:
Alexa for Amazon Home Services… and HomeAdvisor!
Hiring a home improvement pro was never easier. Your buyers simply need to ask Alexa to solve the problem for them, and that will direct them to a number of ad venues.
Try asking your Amazon Echo "Alexa, I need a bathtub liner installation." This connects you directly to Amazon's Home Services, and schedules a quote with a bathroom remodeler through Amazon's platform. Pretty cool, right?
Try asking Amazon Echo "Alexa, find me a plumber on HomeAdvisor." That connects you directly with the home service giant, without ever leaving your couch!
Your dealers receive these leads just like they would any other Amazon or HomeAdvisor lead, so you gain exposure by partnering up!
OK Google – better than OK, and darn near everywhere
Google entered the smart speaker space in a big way last year, but let's not forget, Google's version of the smart speaker uses the same commands as the nearly ubiquitous Android smartphone. Most of your customers homes will have at least one device that can request home services on it by voice!
Try asking Google Home or your Android Smartphone "OK Google, find replacement windows near me." Google will give you a list of nearby providers, plus a smattering of paid-search ads for paying providers! Your dealers can take advantage of this today.
Right now this feeds in from Google Places ads on the AdWords platform, but don't be surprised if Google's own Google Local Services eventually takes over this digital real estate.
There you have it. Your dealers can take advantage of the most recent technology that your customers have in their homes, with the right strategic partnerships! Here at Spectrum, we partner with Google, Bing, and HomeAdvisor. We can extend your manufacturer network unique benefits that you can use to attract new dealers and grow your existing dealer base. Simply request a website analysis below, and we will provide you with data on which of your dealers are currently eligible for these new technologies, plus more info on how Spectrum can help you with industry partnerships!
Tags

manufacturer marketing

Google

Amazon

Alexa

Advertising
---
---
---