Digital Marketing
The Value of Offering Ongoing Promotions
Your website is the foundation of your business. It describes who you are, what you do, and how you can positively influence a customer's life. Your site could be hitting all the right marks, but a shopper still clicks that dreaded "X" button.
How can you prevent this from happening? Spectrum's Promotions Tool allows you to create offers that upgrade your homepage for maximum customer conversion.
Customer Engagement
When you enter a store, an employee typically greets you and announces any store happenings, like an event or sale. Knowing there's a sale certainly piques your interest and at the very least, adds purpose to your perusing. Unlike a brick and mortar store, you don't have opportunity to directly interact with your customers as they view your website. Displaying promotions on your homepage functions in the same way as an employee greeting. Promotions are designed to grab a customer's attention and prevent them from exiting quickly and shopping around. They enhance the consumer-oriented nature of your website and demonstrate that you're always thinking of your customer's needs.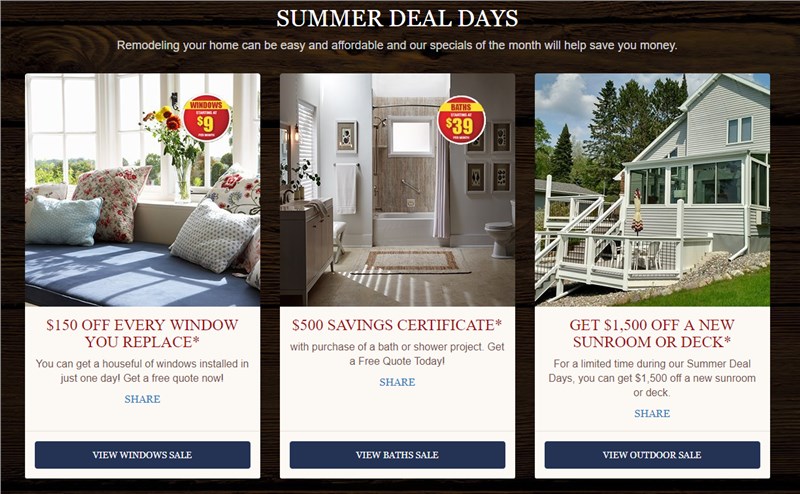 Buyer Motivation
Promotions prompt action. They incentivize a customer to use a promotion while they still can. Regardless if this is a long-term offer you're planning on running for the foreseeable future, there's something about a promotion that triggers a sense of urgency in a customer. In their mind, there's always a chance of the promotion disappearing, and this may be encouragement they need to commit themselves to your product or service.
Sales Insight
Experimenting with different kinds of promotions will show you what works in sales and what doesn't. Perhaps a promotion becomes popular and leads your company into an untapped section of business, or an offer convinces a customer to use your business for other projects—you'll see how your customers interact with your promotions and purchase your products. Knowing how your customer shops will inform your sales strategy and better prepare you for the future.
Expand Your Digital Footprint with Spectrum
Maximize your homepage's ability to sell by adding compelling offers with Spectrum's Promotions Tool.
Spectrum works with you to implement ongoing promotions for your site. Contact your account manager to help you create the right offer to meet your sales goals.
Tags

promotions

offers

homepage

Website Copy
---
---
---