Digital Marketing
Beta: Google Only Showing 4-Star Companies and Above
In an interesting change, Google has begun testing a new search format that will have a deep impact on the home improvement industry. When customers search for your services, Google displays your company in the local search results alongside your Google reviews. The new format tests only displaying companies with 4-star average ratings or above.
Here is an example of what it looks like in action:
Google search for "Best Window Replacement Boston."
Our partner Rite Window appears front and center, with a bunch of great reviews. Only companies with 4-stars or above are shown.
Here's what it *previously* looked like: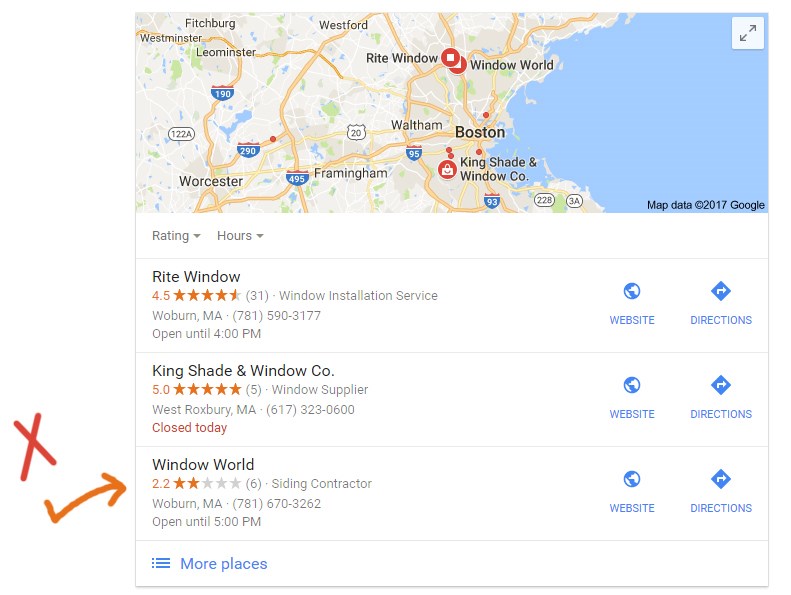 The brands with negative reviews have been cut and replaced with better-reviewed companies. This new format automatically hides companies with less than a 4-star average rating. That's a very high bar for quality!
What this means for your business:
Google is currently testing this new format out for high-intent local searches, exactly the sort of searches that drive leads for your company. If customers prefer that format, the most likely result is that Google will implement this new feature across all searches.
Here is what you need to do to get ready.
You can't have below 4-stars on your Google reviews. Your company simply will not be visible.
You need more reviews than your top 3 local competitors. Again, your company is invisible otherwise.
You need a reputation management process, to ensure that you don't quietly drop in reviews and drop off local search results.
So, there you have it! This change is currently being tested, so you have time to get ready for it.
If you don't already have a process in place to win reviews from your previous customers, now is the time to implement one! Here at Spectrum, we build software that makes review requests a snap, so give us a call if you could use help developing a successful reviews process.
Wondering how many reviews you need to be competitive? We wondered that, too! Our team surveyed 1,010 American homeowners to ask how many reviews they needed to see before they made home improvement purchases. Download the executive summary below!
Tags

Review Management

Online Reputation Management

google+

google reviews

google updates

google news
---
---
---