Digital Marketing
Handy Home Service Social Media Tips [INFOGRAPHIC DOWNLOAD]

Even if you use social media regularly for your personal account, understanding social media for business is a different story. Unlike your personal account, your business account can't just post a random photo at 10 PM on a Tuesday because you feel like it. When and what you post for business social accounts must be purposefully planned.
So how do you know what will boost your social performance, and ultimately drive more business to your company?
It's a matter of understanding who your audience is, what they interact with, and when they're interacting with it. Let's start with understanding who your audience is (and then you can download our infographic to learn when to post and what hashtags to use!)
Tips for Finding Your Social Media Audience
We work with hundreds of home service businesses across the U.S., and we've discovered that audience depends heavily on location and service vertical. A high-end kitchen remodeler, versus an HVAC technician, versus a bath surround installer are all going to have audiences with different demographics.
But finding your business's own audience info is simple. Start by logging into your Facebook business account and look at the top of the profile page. You'll see a tab labeled "Insights"—click on it!

You'll be taken to an insight overview page, which gives basic stats on your business's Facebook presence. Because we're looking specifically for audience insight, look to the left-hand navigation and click on the "People" tab.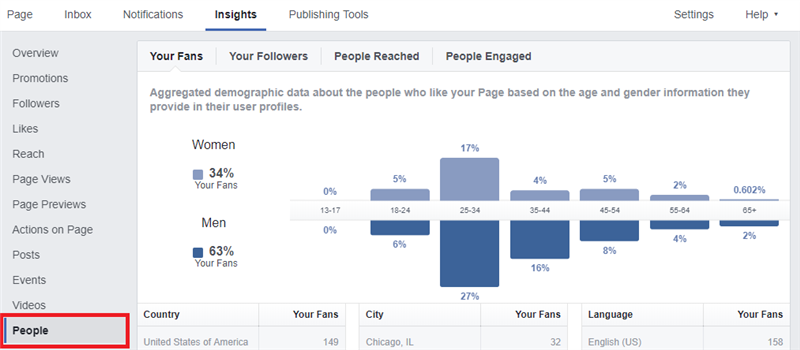 In this section, you'll find:
Gender demographics
Age demographics
Location demographics
With this insight, you can better understand how to tailor the content you post to the people that interact with your business.
Want to get more granular? Facebook's Audience feature narrows down your targeted audience beyond just location, age, and gender. You can upload your own company's list of past customers to get insight on income, interests, and more!
You can also use this list to create a "Lookalike Audience." This feature matches your customers' contact information to their Facebook profile and pulls years of user data to create a new target audience with similar characteristics, interests, and behaviors.
We just did this for one of our clients and were able to determine important home service targeting information like household income and home value! We even know their audience's car preferences (Luxury Sedans and Midsize cars) and popular page likes (Pizza and Community Organizations).
Knowing your audience is great, but you also need to know when and what to post! Check out our infographic to learn:
What posting times work on Facebook, Instagram, and Twitter
How many hashtags to use in your social posts
Which hashtags work for different home service businesses!
Tags

social media marketing

Facebook

audience
---
---
---