The Lay of the Land: What your national competitors are doing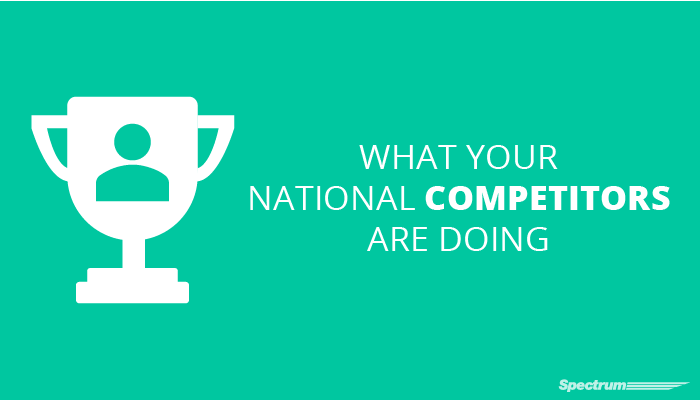 Holding on to your best and most prolific dealers is a competition. As quality companies, your high-volume dealer is being sought out and pitched by your competitors. Keep an eye on the nationwide trends to make sure that your network can grow in sales volume and retain the very best organizations!
Here is a quick sample of 3 national brands supporting dealer networks:
Andersen Windows
The 104 year-old remodeling giant is poised to generate 2.5 billion dollars in revenue this year, making them a strong competitor in most markets nationwide. Andersen Windows supports their dealers in a variety of ways:
Quality products and a deservedly great reputation
Exclusive dealer territories
Television-heavy marketing support
Don't feel like you have to compete tic-for-tac with major national brands on television ads – odds are, you will run out of money before they do! Particularly as ROI for TV ads worsens, invest in the channels where your dealer can dominate. Here are some channels where you can win as the underdog:
PPC ads: Taking the top position on Google only takes a bid, and our remodeling partners average an 8% cost of marketing on the platform. Just be sure your dealers use reputable marketing talent to run the ads, to prevent costly mistakes!
HomeAdvisor: On this platform, the fastest caller wins. Train your dealers for success, and they can compete with the cards stacked in your favour!
Jacuzzi
With divisions for spas, walk-in tubs, and one-day bathroom refits, Jacuzzi doesn't turn down leads in the bathroom space. Here is how they support their dealers:
Dealer summit for networking and best-practice sharing
Digital-heavy lead generation
Pay-per-lead program
If you have any experience attempting a pay-per-lead program, then you know that not all leads are created equal. To keep dealer confidence high, you need to measure program success and ROI at every step. That requires bullet-proof lead tracking, from inbound lead to closed sale.
Wondering how to launch a successful pay-per-lead program? See our collaborative effort with BCI Acrylic, where we built a robust pay-per-lead program from the ground up!
What your dealers value
At a recent dealer summit for our manufacturer partners, we polled the remodelers in attendance and asked them the most important support that a manufacturer could provide. The #1 concern on the business owners' minds was lead generation.
That's a major change! Ten or twenty years ago, remodeling leads were easier to come by. Set up an event schedule, and you are well on your way to a sustainable sales funnel. That's not the case anymore – with traditional lead sources like TV and events on the decline, and hard-to-predict new digital lead sources cropping up all the time. Take your dealers' advice, and invest in lead generation to help your dealers sell more of your products.
There you have it! Two of the national players in the remodeling industry are using a mix of traditional and digital marketing to grow their market share. The common thread for each is that they are investing heavily in lead generation for their dealers.
Looking to win more dealers and move a greater volume of your products? Then you should think about lead generation for your dealers, too. Here at Spectrum, we would know! We are the digital marketing partner for the best and most dynamic remodeling manufacturers out there. If you'd like to discuss scalable marketing solutions, give us a call, we'd be happy to hear from you.
Tags

manufacturer marketing

competitors

lead generation
---
---
---