End the Boom & Bust Cycle of Seasonality
In the remodeling industry, there are definite seasonal trends that face your dealers. Around the holidays, with lousy weather, fewer consumers are looking to take on optional home improvement projects.
How much seasonality impacts your dealers can vary. For instance, I spoke with one large regional remodeler who mentioned that their business ground to a halt during November and December. They saw a predictable 85% drop in leads and sales each holiday season, and struggled to hold talent through the dry spell each year.
Let's be clear, there is no need to lose 85% of your business!
Seasonality Doesn't Damper Interest Much
Many of your dealers are creatures of habit, and they are not used to lead sources that are resistant to the impacts of seasonality. For instance, digital lead generation is fundamentally different from event marketing or canvassing. Day or night, rain or shine, customers are searching the internet for your products. Have a look at this Google search data for home improvement keywords, for example.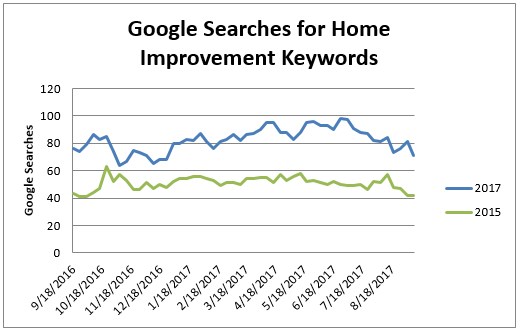 There is a seasonal impact, to be sure, with peaks and valleys. The highest peak and lowest valley, though, aren't all that different. There are about 40% more searches in peak months than during the off-season. That's a far cry from a crippling 85% drop.
So, when you see some of your dealers fall off a sales cliff during the holidays, you now know that it is avoidable!
Not Just Searches, but Leads and Revenue
Those consumer searches translate into lead generation and revenue, if you have the right website to capture the interest. Have a look at the average Spectrum remodeler's performance. Spectrum remodelers have top-of-the-line websites, plus all of the software they need to close the business from their robust lead generation.
Have a look at how our Spectrum partners have done during peak months and during the off-season.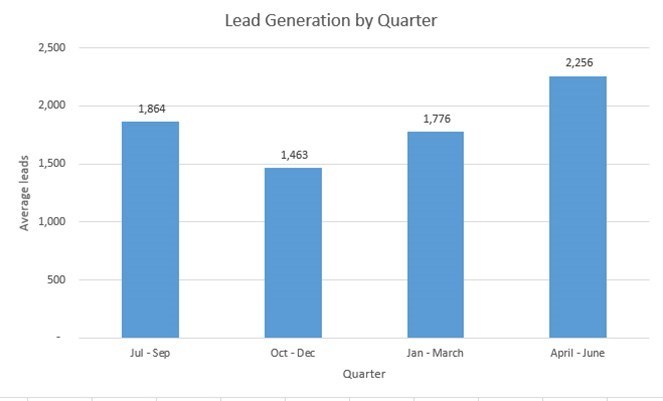 The difference here is about a 35% drop in lead generation. Again, that's far more stable than the sizeable and sophisticated remodeling organization that was taking an 85% drop every year. I should mention, we now work with that remodeler and they are doing great—they just closed their best November yet!
How to Counter Seasonality
We can see from the Google Search data that consumers are out there looking for your products, and we can see from our partner performance that those searchers are ready to do business. It's just a question of investing in the right resources to capture that interest.
So what do Spectrum remodelers have that your dealers can't replicate? Nothing, actually! We partner with home improvement manufacturers, and we can help you set up an enterprise-class web presence for your dealers. Our manufacturer solutions include:
Robust digital lead generation, harnessing organic search, paid search, HomeAdvisor, and more.
Built-in reputation management, for 5-star reviews across the web.
Sales automation software to ensure no sale slips through the cracks.
If you're feeling the sting of seasonality this year, let us know! We can help you mitigate the impact of the holidays on your sales figures, using a variety of proven techniques. Our clients include some of the fastest-growing and dynamic remodeling manufacturers, so we are sure to have a winning solution for you!
Tags

seasonality

slow season

lead generation

manufacturer marketing
---
---
---