Digital Marketing
When Your Usual Lead Sources Dry Up
Expanding your business relies on a steady flow of new leads. You understand the industry and have your go-to sources to generate leads, but what happens when your usual sources don't yield the same return on investment? Taking advantage of all sources depends on having a solid digital marketing strategy and the right team to manage your online presence. Here are our recommendations for areas that have untapped potential:
Paid Search
You've probably invested in a few ads online, but are you targeting the right audience? Paid search is a competitive field, with experts bidding on keywords, ad placements, and building the right kind of ads. A paid search manager will know the market trends, your target audience, and the most effective strategy for leveraging your online presence.

Need some help starting to understand paid search? Download our beginners guide to paid search below!
New Content
Have you fallen behind on creating new content for your website? Adding content in the form of areas served pages, new service pages, or blog posts are necessary evils in today's digital age. Search engines evaluate websites based on several factors, including new content. If your site's been around for a few years and the content hasn't changed since its inception, a search engine won't favor your site in search results, and will instead recommend a site that's constantly generating new content.
Surveys & Reviews
If you're experiencing less inbound leads, taking the time to evaluate your business is a great way to rethink your strategy. Receiving customer feedback is an opportunity to analyze what you do well and how you can improve weaker areas. Send surveys that integrate with your website reviews, and allow survey participants to write a review of their experience with you. Reviews boost online authority with customers considering your services and search engine crawlers, as they help your site rank higher in search results.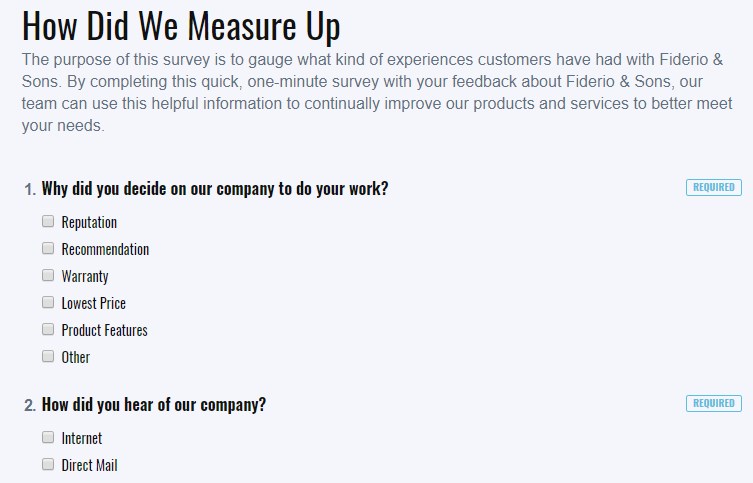 Premium Content
Offering premium content like downloadable eBooks, exclusive discounts, and chat services are elements of a more sophisticated website. Your company can establish itself as a resource for clients as an authority in the industry. Premium content also requires users to provide basic contact information like their name, an email address, or phone number in order to access the material. You then have a pool of contacts with a demonstrated interest in your services to nurture and convert into paying customers.
Partner with a Digital Marketing Agency
A huge part of a lead generation strategy is knowing your market's capacity and the opportunities you're missing out on. You should partner with a digital marketing agency that specializes in identifying these opportunities while providing content creation, paid search management, and software development to help you rethink your strategy.
At Spectrum, we combine digital marketing techniques and cutting-edge software to deliver lead generating solutions. For more information and a free Digital Marketing Analysis, fill out our demo form or give us a call at (847) 239-5591. We'd love to discuss growth opportunities for your business and new avenues for lead generation.
Tags

lead generation

lead sources

digital marketing agency for remodelers
---
---
---