Digital Marketing
Top Sales Tips for Contractors
As a contractor, you know that having a strong sales team is the key to gaining business and converting leads into lifelong customers. As it is, a great sales presentation should be an indication of the great service to come. Sometimes, it's easy to forget that finding success in sales boils down to a few simple things. Here are our top tips for successful sales:
Be Prepared
Being prepared doesn't just mean having the right materials with you at your sales meeting, it means doing your research beforehand. Get to know your clients, research the area, know the style of their home and what they're looking for, that way you can start off the meeting by making a personal connection with them and then segue into how your company can improve their life.
Additional tip: Always bring your work calendar with you so you can give accurate start dates. This also applies to spreadsheets with pricing. Homeowners will lose trust in you if they're given general estimates of when you think you can start a job or what you think it will cost.
Being prepared is easy when you know you're selling to quality leads. Download our guide below and learn the specific system to implement for generating more sales.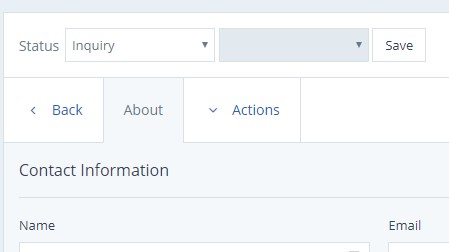 Be Clear and Direct
Every potential buyer wants the buying process to be simple. They're about to make a substantial purchase, and as a salesperson, you don't want anything to deter them from saying "yes". That means making your sales pitch simple. Don't use complicated industry jargon to try and impress your prospects. Instead, explain what the customer needs and how your company will provide the solution.
Lean into Your Strengths
Evaluate your company's strengths and stick to them. Trying to be everything to your customer makes it much harder to be an overall successful company. That's not to say you're putting yourself in a corner. In fact, focusing on a specific area of your business will streamline the process to making your company successful in other areas. If you know what you do well and why, you'll be able to approach a new area of your business with that same process.
Use the Right Sales Software
Companies find success in sales by implementing a simple process. Sticking to a process is possible when you combine the right software with the right lead-generating team. The right software tracks potential buyers through all areas of the sales funnel and engages with customers after they've signed on the dotted line. The right team uses digital marketing techniques to provide quality leads to your company. Combining these two aspects builds a solid foundation for your business, so you can focus on closing deals and improving your customers' homes.
Take Control of Your Sales with Spectrum
If you're looking to streamline your sales process with software that delivers results, we'd love to talk. At Spectrum, we deliver lead generating solutions and sales software so you can grow your business.
We offer a free Digital Marketing Analysis to discuss expansion opportunities for your business, whether or not you decided to partner with us.
Fill out our online form above or call us at (800) 748-1344.
Tags

sales strategies

sales tips

sales software
---
---
---