Spectrum Insider
How to Create a Successful Customer Satisfaction Survey
Maintaining a loyal customer base is key for any business, and growing a company requires constant customer satisfaction. With today's technology, you don't have to wait for a customer to call for you to get a sense of your performance and make changes. With Spectrum's survey tool, you can create customer satisfaction surveys to connect with customers, hear their opinions, and gather reviews.
But how do you make a successful survey? Here are Spectrum's top six tips to create customer satisfaction surveys that work!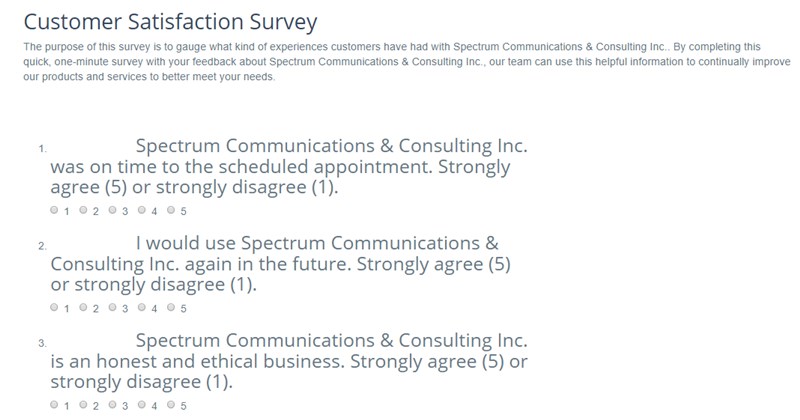 Top 6 Survey Tips
1. Outline Your Goals. What do you want to accomplish with this survey? Did you implement a new delivery strategy? Do you want to know how different departments are performing? Defining clear goals before you start writing your survey will inform your questions. Sitting down and thinking critically now is worth it later when you have accurate and usable data for your business.
2. Think Logically. After you define your goals, think about the kind of questions you'll need to ask to achieve that goal. Start by creating categories and then corresponding questions. Then, analyze the logical flow of these questions and begin to shape your survey.
3. Keep it short. A survey isn't a successful if participants don't finish it. To avoid a high dropout rate, keep your survey between 5-10 questions. Look at your categories and questions. Combine questions when you can, and eliminate questions you don't need. If a question isn't getting you closer to your goal, it shouldn't be in the survey.
4. Craft Your Email. Start with a short, engaging subject line. A great way to grab a reader's attention is by letting your customers know you need their help. In the body of your email, be warm, engaging, and upfront. Tell them what you need from them, why you need it, and how long the survey will take to complete. If someone's clicked into your email, they're already interested in taking your survey. Informing them that it only takes 1-5 minutes further entices them and reduces the number of unfinished surveys.
5. Consider an Incentive. Incentives encourage survey participation. A lot of people will participate in a survey if they know there's a chance of winning something. What is this survey worth to you? Place an internal value on it and then choose an incentive that you can afford. Getting quality data that can improve your business is well worth a $50 or $100 gift card.
6. Spectrum Can Help. Even with these tips, sometimes it's hard to create a good survey. When you work with Spectrum, not only can you create surveys right in your website admin, but you can also choose from prepared templates complete with questions customized to your business. Your account manager will introduce you to the feature and is on hand to answer any questions you may have. Don't wait for a customer to call and leave feedback. Connect with your customers though our survey tool and change the way you approach your business.
Tags

survey tool

survey tips

customer satisfaction

digital marketing agency for remodelers
---
---
---