Digital Marketing
Google Home Services Expands – Huge Change for Lead Generation
Ready to get started? Download our Digital Advertising Guide for your plan of attack for lead generation on Google and beyond!
With HomeAdvisor buying out Angie's List this month, the home services landscape is experiencing major changes. Between HomeAdvisor/Angie's List, Amazon Home Services, Thumbtack, and even minor players like JC Penney Home Services, your market is more crowded than ever with major companies looking to generate leads for you.
Don't Forget The 75-Billion Dollar Elephant in the Room – Google.
Google has just expanded its own unique lead generation product, Google Home Services, now serving ads for new geographies and services.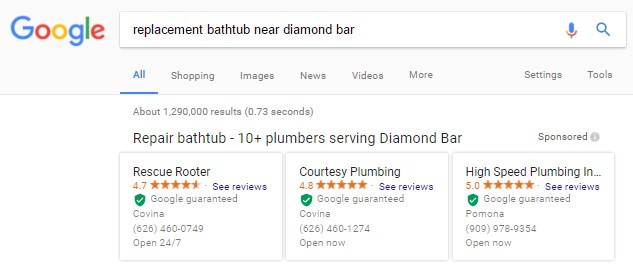 The Google Home Services ad format shown above is certain to be a game-changer.
The impact here cannot be overstated – the new ad format is HUGE, appears above both the regular paid ads and the main search results, and appears when your customer is searching for your services. This is certain to have a major impact on your digital lead generation.
How does Google Home Services work?
When you search for a local service provider, you'll see the insert below – right now, it triggers for plumbers, HVAC professionals, contractors, and several other home service businesses.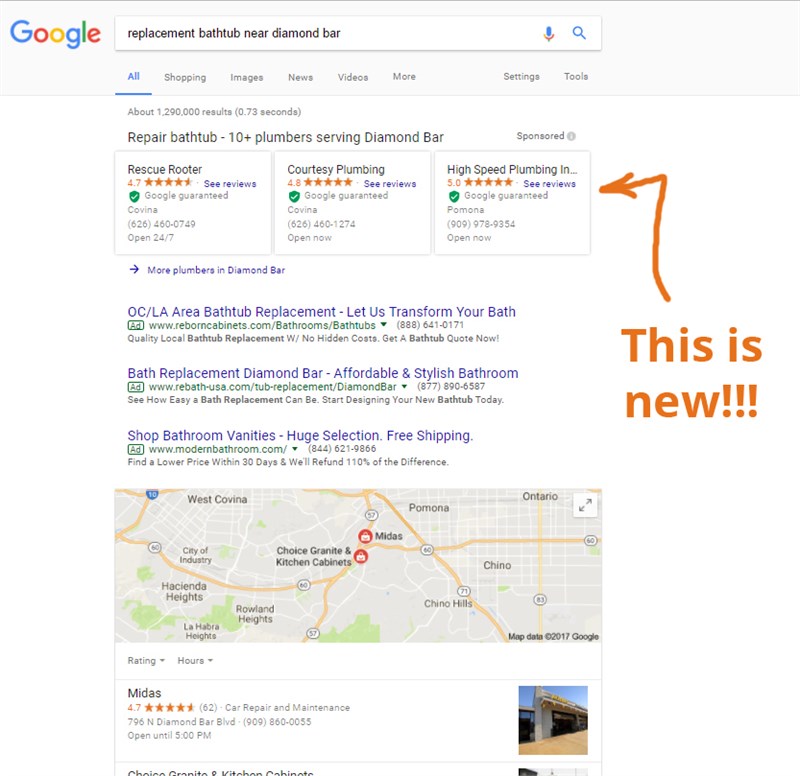 Google Home Services ads appear at the VERY top of search results, taking customers from the organic placements, the local map, and even the other paid ads.
If a customer clicks on the appealing ad at the top of the page, they are then directed to a list of participating companies. It's a really good idea for you to be on this list of companies, and joining is easy!
Wondering how to set up your online advertising? Download our Digital Advertising Launch Guide below for a 10-minute guide to getting started!
A customer can then view a simple profile and a company's reviews before requesting services. It's that easy, and the customer never had to leave Google to make the purchase.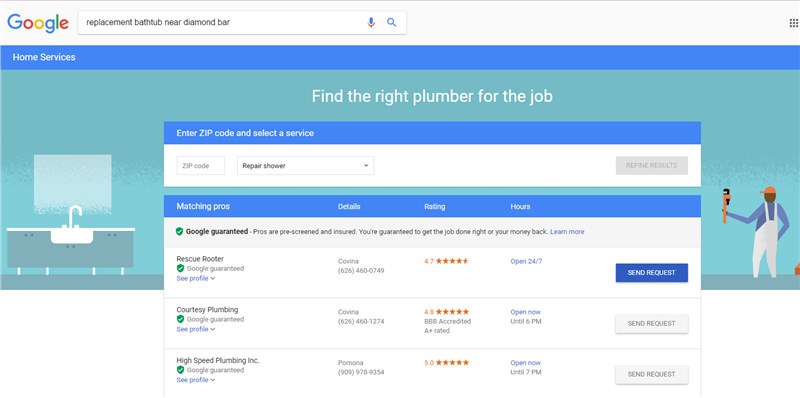 The in-depth view: customers can request service from up to 3 professionals, all without leaving their Google search.
The reviews here are super important - the directory shows highest-ranking companies first, so if you don't already have a reputation management system in place, now is the time!
Why do customers love it?
Google has very, very deep pockets. You have to remember, 98% of Google's revenue comes from ads like Google Home Services, so they can afford to add bells and whistles that other providers can't.
Those include:
Background checks for all providers.
Simple licensure checks for all providers.
Honest and easy-to-interpret reviews. Google even pre-screens companies with a 'Reputation Review.' If your reviews aren't great, you need to fix that!
And most importantly, the Google Guarantee. Google will cover damages for customers that aren't satisfied with Google Home Services contractors, right out of pocket.
As customers start to use the platform and grow comfortable with it, they will have less reason to head over to HomeAdvisor or Angie's List, who don't have the same guarantees in place.
What does this mean for you?
When Google Home Services is expanding fast – when it rolls out nationwide, you need to be ready. These ads serve through Google's existing paid search advertising network. If you're not already on AdWords, you really should be.
Now is also the perfect time to gauge the health of your overall digital marketing. The playing field is about to get a lot more competitive. Particularly in your online advertisements, you need to be operating at top efficiency.
We can help you with that! Here at Spectrum, we provide digital marketing audits as a free service. Our team of in-house statisticians will comb over your account, searching for easy wins that you can implement to improve your lead generation.
As a Google Premier Partner, our team knows the latest features that can radically improve your program. We can even tell you if you're eligible for Google Home Services! Reach out by clicking the form below, or if you'd rather take care of it yourself, download our Quick Start guide.
Tags

google home services

Paid Search

paid search advertising

Pay-Per-Click

lead generation

mobile lead generation
---
---
---