Digital Marketing
One Question Every Contractor Should Ask Their Customers
Your number one goal when you head out to a potential customer's home for your initial visit is to build trust. After all, to confidently hire you, your customer must have confidence that you will do what you say you will. There is one question that you may be leaving out of your sales script that cuts right to the core of customer trust.
"Have you seen our reviews?"
Your customer may or may not have researched your company before calling you out. By asking, you can take control of a potentially risky conversation – after all, even the best companies have 1-star reviews out there. Here are the resources to have on hand to make sure that talking about reviews always makes your company look great.
1) A referral sheet.
Nothing reinforces your legitimacy better than a list of actual customers that your potential buyer can reach out to. Build time into your sales process for the customer to dial referrals while you are in the home.
Randall Webb, also known as The 93% Guy for his unprecedented closing rate in the home, recommends the following format:
Just one sheet of paper.
Maximum of 6 customers on it. Any more is overwhelming.
Include a picture of your reference, ideally with you in it!
Looking for more? Download our 3 Step to More Sales guide for a fast rundown of easy wins for your home improvement sales department.
2) A favorite review site.
Review websites are popular with home owners for a reason. Home owners feel that online reviews are an accurate and unbiased reflection of your company's quality.
Pick one review site, load it with glowing reviews, and show it off during the sales call. By proactively asking about reviews, you can steer the conversation towards a review site of your choosing, where you know exactly what is being said about you.
Hundreds and hundreds of examples of your great work. Tundraland aces customer service, and it shows in their rapid growth!
3) A map of your work.
There is a lot to be said for having done work in the neighborhood. Home owners trust their neighbors to make smart decisions, so that is just one more factor that builds trust in your brand.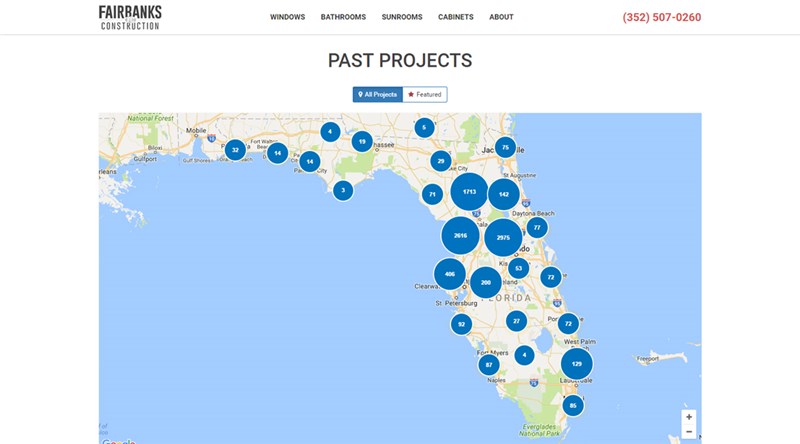 Show, don't tell - for our partner Fairbanks Construction, you can see thousands of examples of their previous work!
Keeping up-to-date with all of the jobs you have installed is difficult, though. Here at Spectrum, we built a Project Mapper to take care of this for you! Have a look at Fairbanks Construction's project map below. You can tell in less than 10 seconds that they are an established, reputable company who have done work in your area, which is just what you need to establish trust in the home.
So, there you have it! With the right collateral, asking your customer this one question steers your conversation directly down the path towards success. Looking for more strategies for sales success? Download our 3 Steps to More Sales guide below! It's full of quick wins for your sales team.
Tags

sales funnel

sales mapping

sales strategies

online reviews
---
---
---