Digital Marketing
New at Google: Advertise to Your Competitor's Customers
This news from Google was so exciting, we had to do a double-take. By cleverly implementing this new feature, you can track and advertise to website visitors… looking for your competitors' websites!
The new feature, called Custom Affinity Audiences, is available today to select advertisers.
How it works
1) We set up a Custom Affinity List for select keywords. Those keywords can be competitor names or website URLs!
2) After a customer is added to your list, you can show them ads across the internet.
3) The more TV or radio placements your competition buys, the larger your list grows, and the more leads you get!
Setting up the ads take a bit of know-how, but once you set them up, you have a profitable way to serve ads directly to customers searching for your competition.
We've seen several big changes at Google this year – download our executive summary to see what the changes mean for your business!
See it in action
Think about it: you can target high-value keywords, and create a list of people searching for those keywords in Google. If someone searched for "replacement window company near me" yesterday, you can now continue marketing to them, even if they haven't visited your website. That's a major change!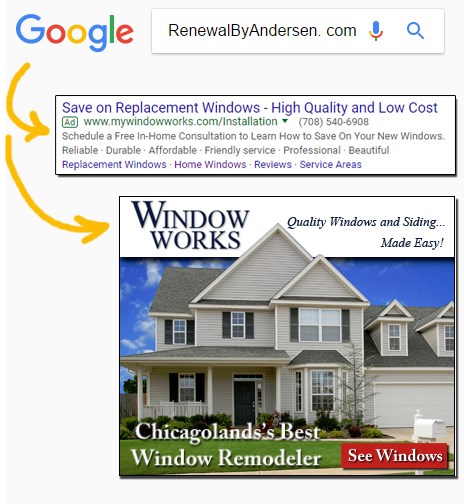 The obvious choice is to go after products you sell, but you can also take this a step further. For instance, you can take a list of brand names and URLs for your top 10 local competitors. You can market to a list of people who searched for those terms.
If a customer is interested in your competitor, then you know they are on the market for your service. Plus, if your competitors are running expensive TV or radio campaigns, you can use your competitor's marketing dollars for your own advantage!
Does it work?
If you think about it, it makes sense. The average customer searching for a given brand name doesn't really know that brand. The TV or radio ad had a compelling sale, so they Googled the company, but they aren't married to doing business with that company.
That's why we see such a great cost-per-lead on ads like this – you can insert your company into the conversation, right when a customer is getting ready to buy. On average, we see that these leads cost half as much as your ordinary Google leads. That's a big win!
Ready to dominate your competitors with the latest features at Google? Download our New Google Features Guide below to find out the best new marketing tools from our friends in Mountain View!
So far, we've seen a cascade of major new Google features for the home services industry this year. Keeping on top of the changes requires your constant attention, or a partner you can trust. Here at Spectrum, we are ranked in the top 1% of Google Partners for client success and retention.
If you'd like for our digital marketing experts to look over what you're doing currently, we'd be happy to help – simply fill out the form below!
Tags

Google Analytics

google adwords

increasing online visibility
---
---
---