Digital Marketing
What Remodeling's Top 550 Winners Do Differently
Last week, Remodeling Magazine announced its annual list of the largest and most dynamic home improvement companies in the country. These companies are predicting considerable growth over last year, 11.2% growth from an average revenue of $17,845,090.
To hit those aggressive growth goals, the nation's largest remodelers have systems in place to market and sell at scale. Let's have a look at some of those systems that you can integrate into your own business.
Reputation Matters
We talk about reputation so often for one simple reason. Customers buy on reputation. Nowhere is that more evident than at the highest tier of competition.
When we look at this year's award winners, we see a clear pattern. Your average all-star remodeler has more than 41 reviews on Google, with an average star-rating of 4.1. That's stiff competition if you have an award-winner in your market!

Split personalities?
Our team also measured each company's Yelp rating, as a point of comparison. We see that, on average, each company scored about half of a star rating lower on Yelp than on Google in general.
Do award winning remodelers have split personalities, and just treat Yelpers worse? Probably not. The most likely explanation is Yelp's filter, which tends to hide first-time reviewers, which many home remodeling customers are.
If you've been pinged on Yelp with a negative review, don't feel badly about it. Yelp manages a solid 2.5 stars on its own Yelp profile. Simply focus your energy on more friendly review sites.
We have a great list of review sites you can download below!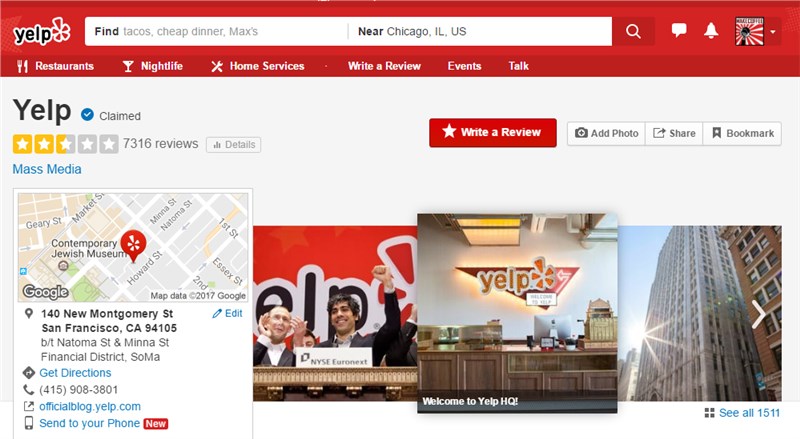 Yelp's own Yelp page - the irony is palpable!
The best of the best
Among the Big 50 award winners, we had a tie for the remodelers with the best reviews. In a small-world coincidence, they are both Spectrum partners!
Legacy Remodeling and HomeSpec, both familiar names among Big 50 award winners, scored a perfect 5-stars on both Google and Yelp. That's a level of trustworthiness that money can't buy – and it shows in their bottom line revenue and predicted growth!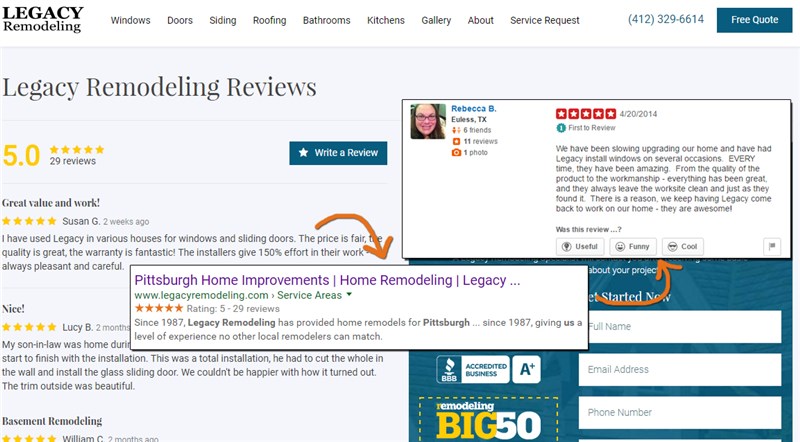 Great work from the professionals at Legacy Remodeling! We highlight Legacy's phenomenal reviews directly in Google search results.
How do they do it? The first step is to be systematic. You need to have the systems in place to solicit feedback from every customer, as well as systems to address customer complaints that inevitably follow growth.
Here at Spectrum, we provide the tools you need to make it happen. Our software helps you in 3 ways.
Requesting reviews is as easy as pushing a button, or we can even automatically send a review request to each of your customers. You have an opportunity to respond privately to all reviews.

Your reviews are formatted by our proprietary software to be displayed directly in Google. This is a huge advantage, both for winning clicks as well as persuading visitors to trust you!
We have the software you need to map your reviews, proving that you are the best local choice.
With these tools, our partners can highlight their outstanding service. Each time they are searched, a customer gets a complete and accurate view of the great work they do, which makes a big difference for their bottom line!
There you have it – a quick breakdown of what sets this year's award winners apart from the competition. Wondering where to build your own reviews? Like we mentioned before, there are good options and bad options. We wrote you a guide to tell you which is which! Download that below, and start winning an even better reputation.
Tags

Online Reputation Management

Review Management

online reviews

Yelp
---
---
---