Digital Marketing
Habitat for Humanity Build Day – Plus, How to Highlight Your Projects!
We are die-hard Habitat for Humanity fans over here at Spectrum. They are just a great cause, building homes for people in need. Plus, every time I do a build day with Habitat, I learn something new about the remodeling trades and home building. Talk about a win-win! Last weekend, a team from Spectrum helped build a new open floorplan house for a family in Carpentersville, Illinois.
We are going to use that build day as an example of how to highlight the projects you've done. If you'd like a quick worksheet for how to do this for your business, download our Project Highlight Guide to the right!
Replacing Windows is Tough Work
First of all, for mid-November, we could not have gotten luckier with the weather. 70 degrees and sunny, which is unheard of here in Illinois. Talk about good luck! We started at 7AM with nine window openings and zero installed windows, so our work was cut out for us.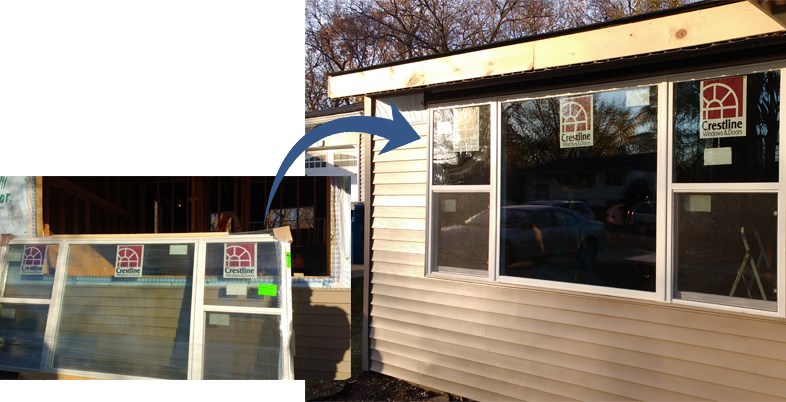 Lifting this Crestline vinyl bay window into place was tricky business! The way that the window flexes in the middle as you move it can really make you nervous. With a team of 3 volunteers, though, we made short work of it. I was part of the team that held it in place and nailed it in, and the before and after impressions were like night and day. Once it was nailed and sealed with the flashing laid over the joints, it felt rock solid and made the house look vastly more like a home.
Ladder Work, Safety First
I have to be honest with you, replacing second story windows is scary business. We had one volunteer steadying the ladder from the ground, and two installers inside the house to hold this double-hung vinyl window in place.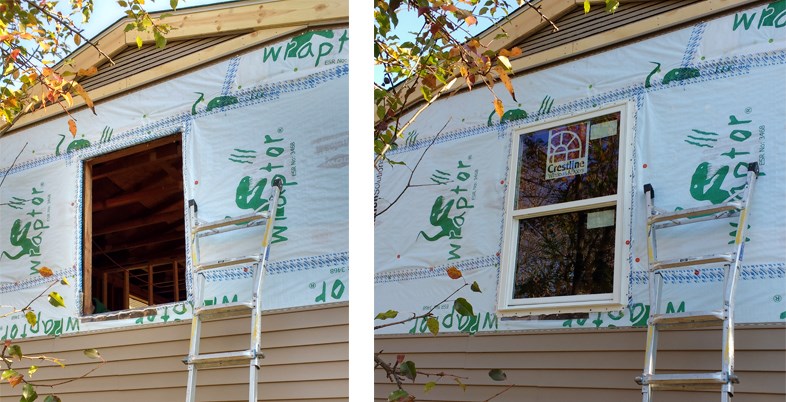 I was the lucky soul who drove the nails in from the ladder. I tell you what, I am a firm believer in the "3 points of contact" safety rule on ladders, and this experience only reinforces my belief! The end result could not have turned out better, though. One more rock solid installation, under the expert guidance of Dan the carpenter from Habitat for Humanity.
A Bonus Patio!
We tied off the last of the replacement windows around 3PM, laying vinyl siding over the seams to create a fully weatherized house for the upcoming winter. Our teams will work on the interior as the weather sours, but we had a few hours left in the day and gorgeous weather, so we tackled one final task – the patio!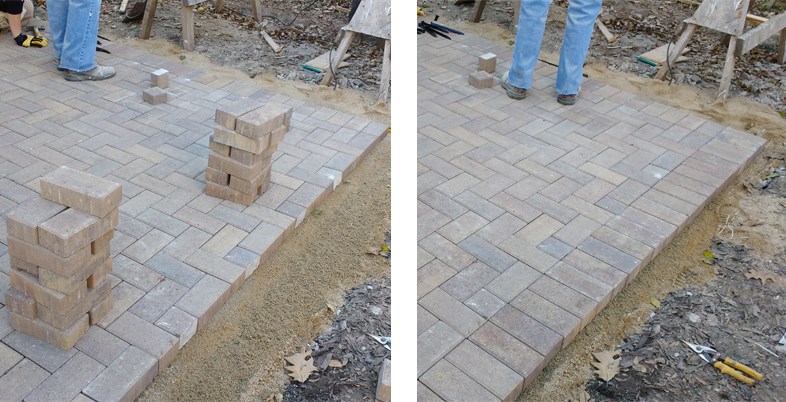 Now, I watched our bricklayer Juan as he worked, and I have to tell you that he is an artist. Look at how even those pavers are! I asked him twice whether or not he did this professionally, and he insists that he is all-amateur. He is just the best amateur bricklayer I've ever seen!
My contribution was elbow-grease, I brought a pallet of bricks from the supply in the garage around the back. Being a math guy, I did some back-of-the-envelope calculations, and I'm guessing that we moved and laid about 2,000 pounds of bricks. With our bricklayer's expert touch, we turned a ton of bricks into sharp-looking patio, perfect for a barbecue or just enjoying the sunny weather.
So there you have it – that was our experience with wonderful folks over at Habitat for Humanity of the Lower Fox Valley. You can use this as a sample of how to write up a project for your own company, either doing great community service work or doing great renovations for your clients. This is exactly the sort of content that your customers will love to see, so download our guide below to help you tell your story!
Tags

project highlights

home improvement

photography
---
---
---