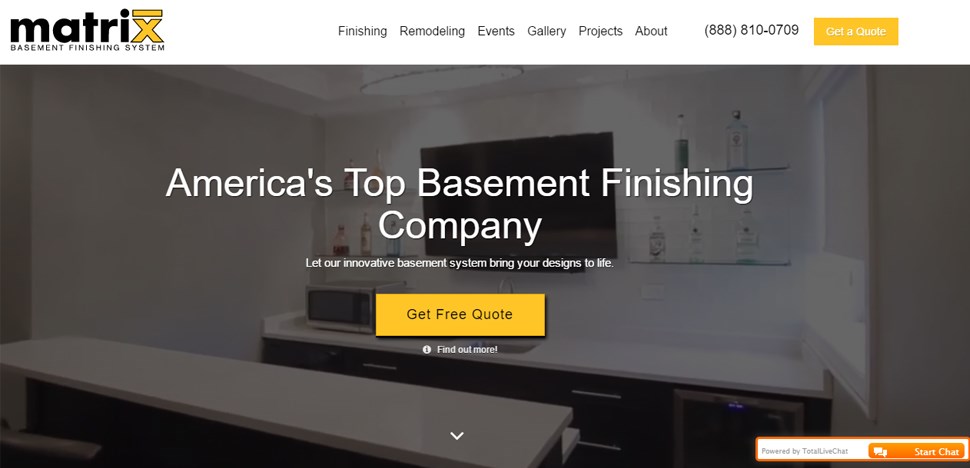 Our digital lead generation offers a powerful, easy-to-use solution to make your business more profitable and easier to run. We generate a high volume of leads to grow your business, and give you the tools you need to manage that growth.
Here are a few of the advantages our partners at the Big50 Award-Winning Matrix Basement Systems are seeing:
1) Trackable leads:
From direct mailers to radio to online ads, we track every lead and record every phone call for you. At any time, you know your exact ROI from all of your marketing. Cut down on guesswork and wasted ad dollars!
2) CRM-integrated:
All of your leads, all in one place. We seamlessly transfer all leads into ImproveIt360 for Matrix Basement Systems, and we can do the same for any major CRM. That way, your growth is easy to track and no potential sales fall through the cracks.
3) Lead generation:
We generate hundreds of top-quality, ready-to-buy leads for Matrix every month. We do this through great organic search results, expertly designed paid ads, and our industry-leading Social Media Lead Generation program. Your website and digital presence should always be your most efficient source of leads!
The Bottom Line
For Matrix Basements Systems, this all adds up to explosive growth without the growing pains. Our solution is used by more Big50 remodelers than any other, so you can count on Spectrum for a winning online strategy to scale your business.
If you're ready to put your business on the growth path, we should talk!
Our experts at Spectrum would be happy to prepare you a free Digital Marketing Analysis, where we can show you how many leads are available for your business online. Simply fill out the form above or give us a call at (847) 239-5591 to get started today.