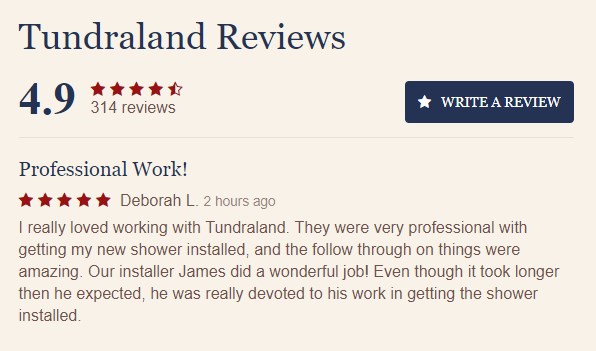 Reviews are one of the top decision-making factors in a consumer's search for a contractor. In order to gain new business, Tundraland knew they needed to update their marketing strategy and how they were looking at reputation management. They partnered with Spectrum to elevate their online reputation for more lead generation.
At Spectrum, we understand that reputation management is a large piece of the lead-generation puzzle. When Tundraland began working with Spectrum, they had under 20 reviews on third-party sites. Today, Tundraland has 84 Google reviews, 51 reviews with the Better Business Bureau, and over 300 reviews on their website.
Here's how Spectrum grew Tundraland's online reputation since they started working with us:
Reputation Management: Our software tool allowed Tundraland to get legitimate, high-quality reviews from customers. They engaged with customers throughout the entire sales process and shared those reviews on their website and third-party sites. Their reviews also display on search results, driving traffic and increasing the number of leads to their site.
Review Incentives: To encourage honest feedback, Tundraland offered past customers the chance to win a gift card after posting a review. Spectrum's partnership with restaurant.com secured Tundraland a great gift card at the right price.
Survey Requests: Similar to Review Requests, Spectrum's software creates pre-populated surveys that can be sent to customers in seconds. Our aggregate polling tool visually displays overall satisfaction ratings from survey participants, an added selling point for potential customers looking at Tundraland's services.
Customers like sites with stars—Spectrum saw a 49% increase in sales lead generation for companies with strong reviews like Tundraland. Tundraland's online reviews increased their website click-through rate by adding site credibility and driving search engine rankings.
How Can Spectrum Help Your Business?
Spectrum's comprehensive digital marketing services have transformed Tundraland into a competitive lead generating company. If you're interested in high-performance digital marketing, we'd love to talk. We offer a free Digital Marketing Analysis to show you the lead generation possibilities your company can achieve. Fill out our online form or call us at (847) 239-5591 to get started!